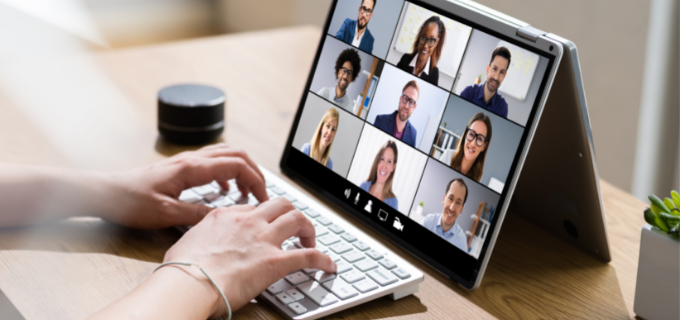 How (and when) you communicate with project sponsors is crucial to your Constituent Relationship Management (CRM) project's long-term success. Open and consistent communication keeps your CRM project on track (and in scope)—ultimately supporting your timeline and budget.
But sometimes, traditional project communication is no longer enough. It's time for a digital transformation of your CRM project sponsor messaging.
Your organization can benefit from the power of video. Video increases visibility—allowing you to create a project sponsor message efficiently and effectively for your CRM implementation. In fact, "in 2020, 96% of consumers increased their online video consumption, and 9 out of 10 viewers said they wanted to see more videos from brands and businesses," Wyzowl's Video Marketing Statistics 2022 report said. "In fact, as of 2022, an average person is predicted to spend 100 minutes per day watching online videos.
But if you're wondering where to start, keep reading—we've created a template for you to customize!
Here's how to create a video project sponsor message for your CRM implementation.
Solidify Your Messaging
The first step before you can create a compelling video for your project sponsor message is to understand your organization's mission, goals, and challenges. Then you'll want to understand who it is you're talking to.
Finally, decide why "should" someone stop and continue to watch your video message.
Think about:
What is important to them?
Do they have any challenges to overcome?
If so, do those challenges hinder their ability to do [insert goal]?
Create a Script
One of the essential parts of creating a compelling video for your CRM project sponsor message is to create a script. Here's how we suggest you put it together.
Talking point #1—Reiterate the CRM project mission statement and your connection to the project mission.
"The mission of the [insert CRM name] CRM project is to establish a shared view, connecting both the "brain"—that is, our customer data—with the "body"—that is, the operational, communications, and clinical teams that create the [insert organization] experiences every day. [Insert CRM name] CRM will provide an actionable 360-degree view, unlocking emotional intelligence to match our [insert goal]."
"As I think about the strategic vision of Development, the mission behind [Insert CRM name] CRM will light the path for us to reach our objectives. I am proud of the work we do here at [insert organization], and I am delighted that [Insert CRM name] CRM will enable our people to do their best work."
Talking point #2—Inspire the team to succeed.
A compelling script and project sponsor video message focuses on inspiration. Here are some talking points that inform but also inspire your team to succeed.
"Positivity is contagious. I want to encourage you to cultivate a nimble mindset, keeping in mind the following:"
"Be flexible and adaptable."
"Keep up the momentum and work efficiently."
"Be open to working differently."
"Keep it simple, cut through complexity."
"Work together as a team."
Closing –Thank the project team for their hard work.
Thanking project sponsors fosters a sense of loyalty and inclusion that, in turn, inspires the project's overall success and helps drive it through the organization.
"A heartfelt thank you to the [Insert CRM name] CRM Project Team for their time and commitment to this effort."
"Let the adventure begin!"