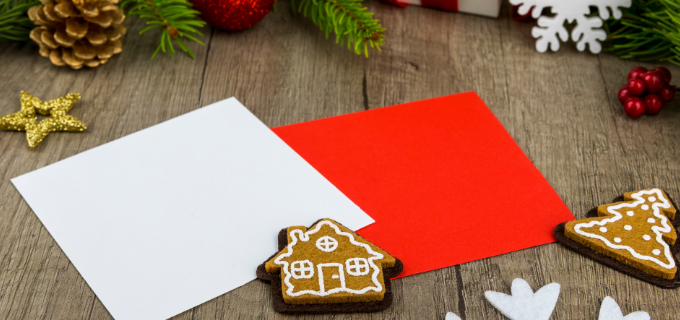 For many years, there has been a tradition of institutions sending their constituents a holiday greeting. Unfortunately, this is usually a long, drawn-out process.
Deciding on an appropriate message for your constituent holiday greeting is hard. Constituent holiday greetings require choosing the perfect message. But it can't be an ordinary message—it must be carefully thought through and appeal to a broad audience without any political or religious affiliations.
Then, the constituent holiday greeting design adds another level of complication. Many institutions ponder how to create a design that is "on-brand" while simultaneously appealing to their many audiences. Again, without any political or religious affiliations.
Finally, there is the delivery method of your constituent holiday greeting. Traditionally, constituent holiday greetings are printed and sent through the mail. This method, of course, requires additional time to package the envelopes, prepare the addresses, and add postage—not to mention the cost of postage. Physical greeting cards may be standard among the older population, but younger folks may think it's a less-acceptable concept and toss it. Plus, eco-conscious constituents may see this method as wasteful.
It's time to reconsider the way you send holidays greetings to your constituents. Here are five tips to get creative this holiday season.
#1—Make a Holiday Video
Videos are always a great option to engage constituents without added effort. Your holiday greeting video can be produced—and distributed—quickly and professionally with the help of online services.
Platforms like ThankView build better relationships with personalized video. You can easily create and send personalized videos to raise awareness, promote events, update stakeholders, and thank those that matter most.
#2—Send Mobile Postcards
Using a smartphone or tablet, you can easily create a holiday postcard. Apps like JibJab and Smilebox provide a quick and fun way to send personalized greetings that won't cause clutter.
#3—Deliver A Photo Slideshow
What better way to say "Happy Holidays" than to create a photo slideshow of how constituent donations impacted your institution? Use a design tool like Canva to make stunning slideshows in seconds.
#4—Say "Happy Holidays" in Real-Time
If you want to deliver a very personalized message, jump on a video conferencing platform like Zoom and say "Happy Holidays" in real-time. This may not be feasible for all your constituents, so reserve it for your new constituents or ones that meet a specific criterion.
#5—Create a Custom Card
If you insist on sending a physical greeting card this holiday season, opt to create a custom design. Look to your art department to create an illustration. If multiple artists want to participate, consider having a few variations to send to constituents.
Avoid putting any text on the front of the card. Then, have the cards printed in a standard photo size of 5 inches wide by 7 inches tall. Finally, write a note inside with instructions that encourage constituents to upcycle the card into a framed piece. This way, constituents who may not love getting a printed card due to waste can repurpose their holiday greeting and save the planet.
Holiday greetings are a great touchpoint during the holidays. Every institution should retain that touchpoint but also rethink the delivery. Happy holidays!
Resources:
ThankView: https://www.thankview.com
JibJab: https://www.jibjab.com
Smilebox: https://www.smilebox.com/
Canva Slideshows: https://www.canva.com/create/slideshows/