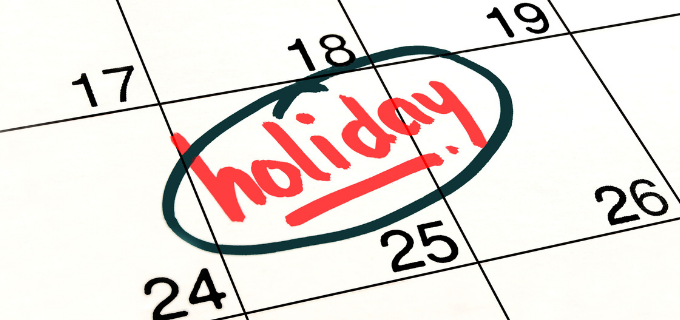 Your Constituent Relationship Management (CRM) implementation is likely to last through the holidays. On average, for smaller institutions, a CRM project duration is 12 months. Whereas larger institutions, their CRM project can last anywhere from 12–18 months. So, it's inevitable that your team is going to take your CRM project through the holidays. But work-life balance and productivity can co-exist if you plan for it.
Planning your CRM implementation through the holidays doesn't have to be an angst-filled event. Reduce the stress on your team by respecting the time they're giving to work on the project. The end-of-year holidays focus on family and friends—something we've realized even more important in the last couple of years—which should not change just because you're doing a CRM project implementation.
Focus your efforts on how you're treating the people participating in your CRM project more than the progress. Your team should not be expected to sacrifice their time through the holidays to participate.
Here's how to manage your CRM implementation through the holidays.
Identify Breaks
Purposely establish a wind-down plan for your CRM project during the holiday season. This period doesn't mean your team goes idle. Determine with each workstream where the break will occur. Review what has been achieved up until that point. Categorize the completed deliverables and those in progress.
During these wind-down meetings, plan clear breaks during the holidays and identify non-working days—days that nothing is planned (no exceptions.) Establish a stopping point where your team feels confident with their completed deliverables versus those in progress. This will help you decide where to pick up when you reconvene.
Plan Self-Paced Activities
The period between Thanksgiving and Christmas is not the time to start new initiatives. Avoid planning large meetings during this time. This helps alleviate the complications of scheduling since most people tend to take time off through November and December.
The reality is that activities for your CRM implementation project can happen. But instead of planning team projects, take advantage of self-paced individual activities that help move the project forward during this time.
Create templates
Refresh policies and procedures
Research concepts, new features, or technology
Encourage supplemental training
Take Time for Training
Use the holidays as a time to focus on training. Typically, the holidays are a less demanding time—creating the perfect opportunity for your team to participate in training they may not have been able to do otherwise.
Avoid CRM application training but encourage supplemental training activity. Have staff take advantage of training that may increase their knowledge or skill set that would enable them to contribute to the project more effectively. Examples of supplemental course topics to aid your CRM project may include:
Effective Marketing for Successful Fundraising
Developing Annual Sustainability and Major Gifts
Managing the Capital Campaign
The Art of Fundraising
Effective Leadership, Successful Fundraising
Engaging Women as Donors
Fundraising from the Business Sector
Social Selling
The holiday period is a time to focus on family and friends, but that does not mean it is a useless period for your CRM implementation project. Communicate clearly to your team to ensure they are still maintaining progress on your CRM project but take advantage of this well-deserved less demanding time.