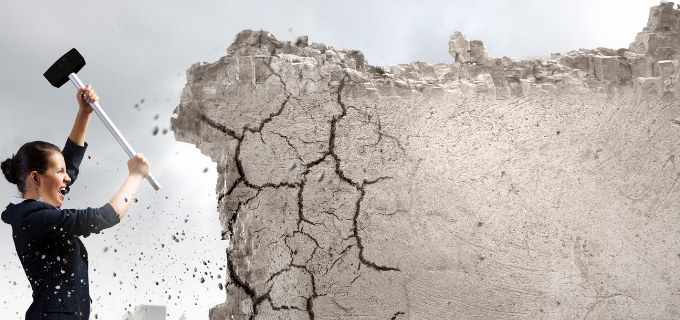 Undergoing a Constituent Relationship Management (CRM) Implementation is a significant undertaking. It can become increasingly challenging to juggle all that needs to occur in operations while not derailing your CRM implementation project. 
Even during an 18-month CRM implementation project, your institution is trying to raise money and increase donor engagement. This is in addition to your everyday responsibilities—your team can't hit the pause button to complete your CRM implementation. 
Because of this, you need to focus on the types of decisions being made. Here's how to overcome the challenge of managing advancement operations during a CRM implementation. 
Avoid Unnecessary Changes 
Avoid making unnecessary changes to your existing donor management system during a new CRM implementation. When you undergo unnecessary changes, your risk to the CRM implementation increases exponentially. It can push your project to focus on the "current state", while the project is trying to identify and facilitate a "future state." It is problematic if the current state becomes the moving target. 
All aspects of the implementation—from data conversion to process engineering to business requirements—start to shift on the project team. The change management impact of moving that current state target is enormous. 
Additionally, fulfilling changes outside of your CRM implementation can disrupt your stakeholder's transition period. For example, you go from steady-state to transition, then you come out on the other side. But you've thrown your stakeholders into a transition that has nothing to do with the actual CRM implementation. 
Throughout the project, your stakeholders have multiple streams of change and get confused. They may: 
wonder what they were doing before;

be confused as to how they can adapt and adjust to what they need to do in the future; and  

be frustrated that they must adapt and change again.
One way to avoid this is by making your CRM transformation roadmap an integral part to your overall framework—step-by-step navigation to get your institution from the point of departure to the end of arrival. Your roadmap should include:
taking a set of actions;

implementing activities; and

achieving outcomes in a planned sequential manner. 
The CRM transformation roadmap, as the name implies, is more than a "quick fix." Instead, a practical roadmap needs to be based on strategic and operating model considerations. 
Make It Mission-Critical 
If changes must happen during a CRM implementation, they must be mission-critical. But before you make that kind of decision, there needs to be a complete risk management plan around the change in the current system. That risk management plan will then become a part of the CRM implementation and should be a well-thought-out process and not taken lightly. The absence of a risk management plan increases the risk of CRM implementation success. 
The risk is essential to user adoption of the CRM implementation and their ability to adjust to the new future state. They will remain in transition and stuck figuring out the changes made to the current system. 
Resist Launching Other Initiatives 
Launching other projects or initiatives during a CRM implementation can create a resource strain. You don't want to "shut down," but you also don't want to put unnecessary pressure on your stakeholders. 
In and of itself, a CRM implementation is a considerable effort. However, adding ancillary projects or initiatives splits your stakeholder's time. Taking on projects—including a CRM implementation—is usually in addition to your team's workday. 
Continually fractionalizing your team's time and input can jeopardize their well-being and quality of work. They parse out their time and attention, so their productivity, level of engagement, and overall contribution diminish—it becomes unilateral suffering.
Avoid spreading your team too thin by looking at your resource plans. Eliminate launching new projects and initiatives during a CRM implementation. It is such a heavy lift, there is not much else your team can manage during this time. If you must focus on additional projects that can't be avoided, divide up the resources. Dedicate one group to working on the CRM implementation, and a different set of resources to work on the mission-critical project.