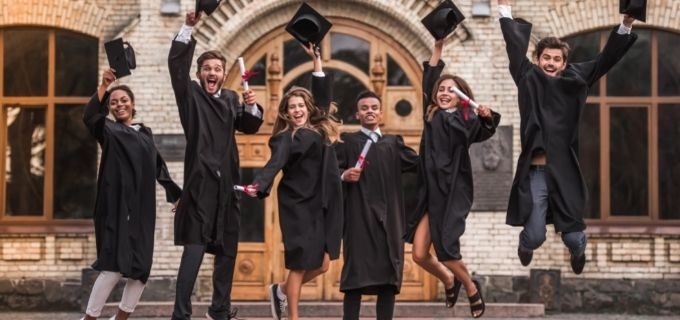 Have you ever wondered how successful colleges and universities convince past students to give something back to their alma mater? Most often, it's because they've established ongoing relationship and engagement strategies with their alumni.
An alumni engagement strategy requires careful consideration of things like nostalgia, trust, and emotion. More importantly, it means identifying marketing techniques to elicit those feelings.
Communicating with your alumni should be a part of that strategy. One of the easiest ways to communicate is through an online platform like PeopleGrove[1].
An online platform can:
provide alumni with access to career opportunities;
centralize directories, alumni job boards, and chapter management;
advance your mission by driving higher engagement; and
measure increases in giving.
It's a no-brainer; your alumni serve many valuable roles for your institution—helping to build and grow your brand through word-of-mouth marketing, plus offer mentoring, internships, and career opportunities to fellow students.
There is a significant investment to implement an online alumni network platform. Often, the same investment falls flat because institutions think, "build it, and they will come." In turn, the information technology (IT) department acts as the pseudo "community" for its alumni.
That approach is always ineffective. Think about it like this. You're an alum of the University of California, Berkeley. UC Berkley reaches out to inform you of their new alumni community, offering you the opportunity to join fellow alums and network—suggesting you can catch up with classmates and gain access to powerful relationships.
But six months pass, and you realize you're interacting with very few people, or worse, the same people, and no one is responding to your inquiries. Alumni quickly become discouraged and leave the platform.
These online engagement platforms are great for enabling meaningful connections throughout your community—whether that's an alumni community or constituent community, but only if you have a strategy. Here's how to make the most of your online platform by engaging and connecting with alumni.
Step 1: Market Your Program
Get rid of the idea that just because you build a platform, your alumni know about it and want to use it. Overcome this challenge by marketing your program so alumni are aware of its value and usability. Marketing can't be a one-time thing. And it should be a thoughtful and continuous marketing plan.
Form a marketing committee. Use your network to find help by tapping into alumni who work in marketing. Then evaluate other alumni organizations. What are they doing to market their platforms? Don't necessarily copy what they're doing but take inventory of how they talk to their audience and solve their wants, needs, and desires.
Effective marketing includes understanding your value proposition and knowing what your alumni expect to receive. Think about how you can best reach them, and set specific, measurable, attainable, relevant, and timely (SMART) goals. Finally, assess your goals often and evaluate your plan regularly.
Step 2: Educate About Useability
Another reason alumni may leave your networking platform is that they don't understand how to use it. You can't assume alumni know how to take advantage of this resource, even if it is a user-friendly platform.
Take into consideration that you probably have alumni spanning several generations. Be mindful of the nuances of each generation and their specific wants, needs, and desires—providing ideas about how (and why) they should use it.
Emphasize the ease of use—which can also be a part of your marketing tactic. Create marketing content that answers alumni questions. For example, "Have you tried the ABC feature? If not, here's how to use it."
This type of communication should be ongoing. Develop a communication plan that educates alumni frequently—this promotes sufficient engagement and increases your retention.
Step 3: Maintain Your Metrics and Measurements
Like anything, you need to measure and analyze your metrics regularly so you can adjust as necessary. Schedule weekly or monthly check-ins to see what's working, what's not, and determine a plan to course-correct.
[1] https://www.peoplegrove.com