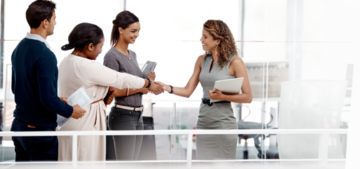 Are you struggling with how to fundraise in the current environment? 
Many institutions are. The uncertainty created by the pandemic, along with a slowdown in our economy and growing civil unrest, can make it difficult for your voice to be heard. 
So in these times and beyond, transparency and sensitivity are critical in your donor communications. How can you ask for funds tastefully, and genuinely thank the donors who contribute them? 
Advancement in a Pandemic: The Current Landscape
As you can imagine, this was a difficult year for individual giving. In fact, individual giving decreased by 6 percent in the first quarter of 2020, compared to last year. That's nearly $25 billion in lost revenue for nonprofits if this trend continues throughout the year.
Although technology and data enable us to live and work in a socially-distanced world, these tools alone will not lead us to success. In the face of a global pandemic, our relationships have increasingly taken center stage. These relationships were always important, but COVID-19 has made us remember their true value. After all, human connections allow us to survive in the short term and thrive in the long term. 
Take a look at one of your most fundamental, human-connection-centric business practices—thanking your donors. This practice of planned gratitude, also known as your acknowledgment process, doesn't go unnoticed. It's greatly appreciated by the donors themselves.
But is your acknowledgment process COVID-19 proof? 
Assess and Document Your Current Acknowledgement Process
Currently, you probably follow a standard acknowledgment process that may look something like this: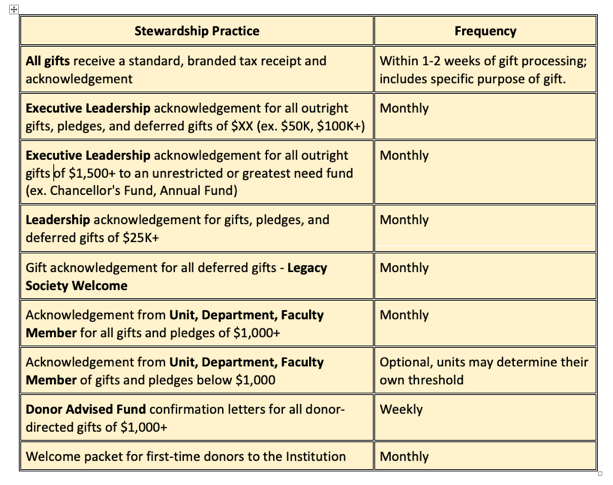 4 Tips to Revamp Your Acknowledgment Process
Since nothing about 2020 has been business as usual or typical, it's not sufficient to use standard acknowledgment practices anymore.
Go a little further with your acknowledgment process and tailor it to the times. Below are four (4) tips to help you do just that.
1. Change Your Verbiage
Our first tip is to change your verbiage. The way you word your acknowledgment email and letter should address COVID-19.
Directly address how COVID-19 has had an impact on your institution, and on your community. Recipients will appreciate your honesty and they'll empathize with your circumstances. Remember, we're all in the same boat. 
If you don't acknowledge COVID-19 in these communications, you risk coming across as if you're going through the motions…and no one wants that. 
So, breathe deep, and craft a message as though you're communicating from one human being to another—because you are. 
2. Thank Donors at Every Level
Gift minimums might've made sense before the pandemic, but they definitely don't make sense now. 
Discard your gift minimums for saying thank you, and acknowledge anyone who gives a gift during these tough times. Throughout unprecedented uncertainty, these special individuals have decided to support your institution—now that's a big deal! By thanking all your donors, you're showing that you truly see and appreciate their efforts. 
3. Get Personal
Don't be afraid to get a little personal. People appreciate those extra steps, especially amidst all this uncertainty. 
If your standard practice is to send an email or a letter, try giving people a call to thank them instead. After all, people's routines have been disrupted, and they're feeling more isolated than ever before. Hearing your friendly voice, and discussing something that evokes feelings of hope (like your institution), can add extra positivity to someone's day. 
4. Expand Your Acknowledgement Process
Go beyond the donors, and expand your acknowledgment process. Don't stop at expressing gratitude only to the people who've given a gift; include those who are fundraising on your behalf in your communication process. 
Additionally, pay attention to people who are sharing heartwarming stories about your institution on social media, and take the time to thank them. Expressing this gratitude one-on-one is great, but so is sharing their posts on your social media channels (with their permission). Doing this will amplify the appreciation on both sides while encouraging others to follow suit. 
Relevant Acknowledgment for Advancement: Final Thoughts
To recap, your current acknowledgment process likely needs an update for this pandemic world.

The current landscape for individual giving to nonprofits looks dire. Therefore, change is essential to survival.

When it comes to your acknowledgment process, don't follow the status quo.

Change your verbiage, so that people can see how the current landscape has affected your institution and your community. 

Don't set gift restrictions—thank donors at every level.

When thanking your donors, get personal. A quick phone call can come across as more heartfelt than your standard acknowledgment email. 

Expand your acknowledgment process to include those who are fundraising on your behalf and those who are sharing your institution's stories on social media.
With these actions, you'll be sure to strike a friendly, positive chord with those you're acknowledging. These tips will help you in strengthening and maintaining your donor relationships for years to come.
If you would like an assessment and clear roadmap, contact us to Future Proof Your Acknowledgment Process.
We will help you create an acknowledgment process that is not only effective during the pandemic but sets you up for being responsive to your donors in the future.