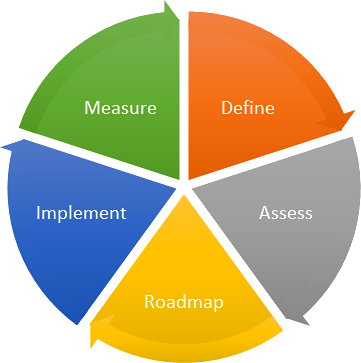 Our Roadmap Consulting Services are rooted in the cycle of success. Each engagement offers the following components.
Clearly Defining the Goal
Through interactive workshops we work with our clients to clearly define growth opportunities and areas of improvement.
Assessing Your Current State
With assessments we remove the guesswork out of how to move forward and provide actionable data and insights about the current state of your organization and its operations.
Establishing a Roadmap
We provide an easy to follow roadmap to successfully implement your CRM strategy enabled by industry best practices, empowered staff, and an integrated technology platform.
Implementing the Roadmap
We provide Tools, Templates, Techniques, and Training to support the successful implementation of your Roadmap. More importantly we are with you every step of the way.
Measuring Results
How do you know you have achieved success? We provide a framework to evaluate and communicate your progress at all levels of the organization.